Home-grown company Avadim announces major expansion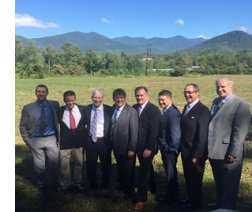 On Wednesday, Avadim Technologies announced an expansion that will create 551 new jobs and $25,400,000 in capital investment in Buncombe County over the next five years. This expansion marks the single largest job creation announcement in Buncombe's known history and will place Avadim in the area's top employers by 2020.




Avadim's Chairman and CEO, Stephen Woody, said, "As a lifelong resident of Buncombe County, it was important to me that our business expansion happen right at home. This expansion will contribute to our economy by continuing to cultivate a vibrant life sciences sector and spur jobs in Western North Carolina."



Through innovative product development, Avadim is addressing gaps in global health such as infection, neuromuscular disorders, and wound care with products in use by Veteran's Administration and U.S. soccer teams.

Read more about Avadim's innovation and expansion

Election Briefing with North Carolina Free Enterprise's Joe Stewart

Joe Stewart, executive director of the North Carolina FreeEnterprise Foundation, will be in Asheville Sept. 30th for an update presentation and will provide insights on the coming elections. His presentation at the Asheville Area Chamber of Commerce will cover statewide races as well as legislative and Congressional contests in Western North Carolina. Make sure to mark your calendar and join us for this free event.

NCFEF is a non-profit, nonpartisan organization that conducts analytical research on candidates, campaigns, voter attitudes and demographic factors that impact the state's political landscape. NCFEF does not have a legislative agenda, does not endorse candidates and doesn't participate in campaign activity of any kind. As a result, NCFEF serves as the business community's go-to source for objective, impartial and authentic information on what matters in the nexus between politics and public policies that impact the state's business climate.

RSVP

Award nominations open for outstanding business women

This fall the Asheville Chamber is launching WomanUp, a new initiative focused on women in business. During the November kick-off celebration breakfast, we will be honoring outstanding local women professionals. The event will also feature keynote speaker, Pamela Ryckman, author of Stiletto Network: Inside the Women's Power Circles That Are Changing the Face of Business.

Awards will be given to three outstanding women in the Asheville/Buncombe business community: the Women Entrepreneurs, Best in Business Award; Outstanding Woman in Non-Profit Leadership; and Woman Executive of the Year. Nominations for the awards are due October 7th.

For more information on WomanUP or to submit a nomination, please visit www.ashevillechamber.org/womanup

Show your support for Asheville; endorse the AVL Bonds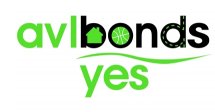 This November 8th City of Asheville residents will have a chance to vote on three bond questions that would generate $74 million in revenue for parks and recreation, affordable housing, and transportation network projects. The Asheville Bonds are supported by the Asheville Chamber of Commerce, United Way, Asheville Buncombe Adult Soccer Association and many other area businesses, organizations and individuals.

A 2016 study found that 67% of Asheville residents polled also support the bonds as a common-sense way to improve our vibrant city.

Make sure to vote YES FOR ALL THREE BONDS at the bottom of your ballot this November.
Lend your support and help us get the word out before election day!
Add your name or business to the bond supporters
Minority Enterprise Development (MED) Week


Celebrating minority entrepreneurship in WNC through free community programs that aid in the promotion, establishment and development of minority owned businesses including the Minority Business Expo and Awards Reception on Thursday, Sept. 29

www.wncmedweek.org

Ribbon Cutting for Iron Hen Cafe


4:00 p.m. | 309 College St., Asheville, NC 28801 | Details

Ribbon Cutting for Inner Chill Cryotherapy Wellness


4:00 p.m. | 1863 Hendersonville Rd., # 133, Asheville, NC 28803 | Details


Election Briefing with NC Free Enterprise's Joe Stewart


3:30 - 4:30 p.m. | Chamber Boardroom, 36 Montford Ave., Asheville | Details & RSVP

Ribbon Cutting for Travel Centers of America


4:00 p.m. | 153 Wiggins Rd., Candler, NC 28715 | Details


October Business After Hours


5:30 - 7:00 p.m. | Sisters of Mercy Urgent Care, 1272 Tunnel Rd., Asheville | Details


Chamber Classic Golf Tournament


8:30 a.m. & 2:00 p.m. | The Cliffs at Walnut Cove, Arden | Details & Registration

The front nine holes of this Jack Nicklaus designed course wind across open fields of former farmlands, playing across soft ridges and featuring bunkers that create multiple risk and reward opportunities. The back nine plays into native woodland vegetation, crisscrossing over and around mountain streams.

The tournament builds a fun atmosphere with members of the business community coming together for food, beer and contests by our sponsors. Morning and afternoon flights.

Register your team

Mega Networking - Fall 2016


8:30 a.m. - 12 noon | Asheville Sun Soo Tae Kwon Do, 1009 Patton Ave., Asheville 28806 | Details & Register

2016 Woman UP - Network. Inspire. Support. --

NEW




8:00 a.m. | Mission Health Conference Center on A-B Tech Campus, Victoria Road, Asheville, 28801 | Details & Register


15th Empty Bowls Fundraiser takes place Sept. 26th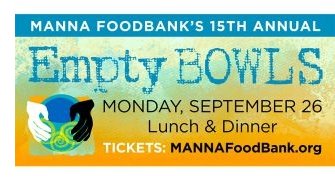 Join the nationally recognized Asheville arts and food communities as they come together to help fight hunger in Western North Carolina at MANNA FoodBank's 15th Annual Empty Bowls Fundraiser on Monday, September 26, 2016.

How It Works: Each ticket holder chooses a handmade soup bowl from a huge selection of beautifully crafted pottery made by area crafters and artisans. Then, attendees have a chance to dine on delicious soups from some of the top restaurants in Asheville.

Tickets available at MANNAFoodBank.org, or by calling (828) 299-3663.