The quality of our current and future workforce is increasingly seen as the most important factor in our region's economic growth and vitality. With more than 450,000 people in Asheville MSA and around ten million in the State of North Carolina, the need to build a strong workforce and talent pipeline is critical. The success of WNC and state depends on a workforce that is well educated, informed, and equipped with proper skills.
Motivation
In North Carolina, businesses are increasingly struggling to deal with a skills gap, between the types of skills needed for work and the types of potential workers available in the marketplace. As of September 2018, counties in the Asheville MSA continue to have the lowest unemployment rates of all counties in the state. As our residential population continues to grow in the region, so does the need for meaningful work.
67% of companies surveyed expect to grow in the next three years
Background
The Economic Development Coalition for Asheville Buncombe County, Asheville Area Chamber of Commerce, Mountain Area Workforce Development Board, and over 20 regional partner organizations collaborated with the North Carolina Chamber and RTI to survey businesses across a 10-county region in Western North Carolina. The analysis asks how businesses expect to grow, the types of jobs, skills, training, and education they need in their future workforce, and where they are looking to find their future workforce. The purpose of the survey is to capture the critical skill needs of businesses over the next three years. Our goal is to identify solutions to close the skills gap and improve the workforce pipeline—which will ensure that companies in our area have the talent they need to succeed. With the data provided from this analysis, we can better align education systems, economic development initiatives, and address business needs so our region can continue to grow and thrive.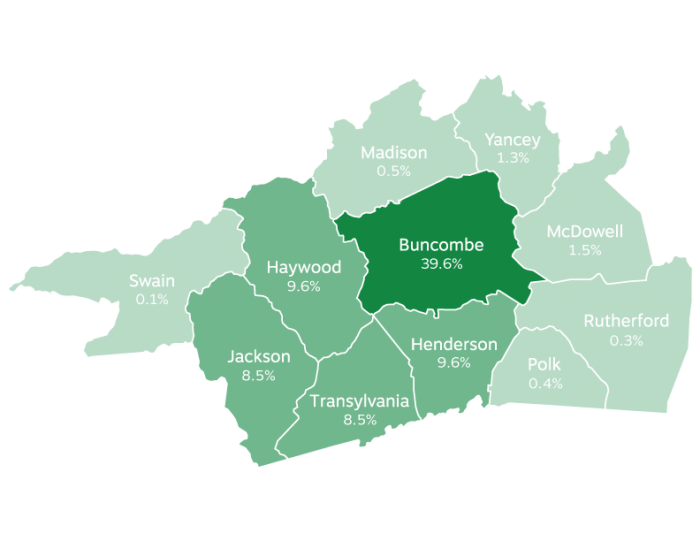 Summary
The key findings in this report describe the general consensus from the data. Based on the key findings, the following items were identified as the strongest takeaways from the State of the Workforce WNC Analysis:
Businesses expect to grow
WNC has a high concentration of small businesses with hiring challenges
Employers rely on community college programs and are looking for candidates with associates' degrees and professional certificates
The region's workforce has a mix of strengths and challenges that are consistent with national trends
Skill gaps may exist due to supply and demand, interest, skills, education, and experience
Family and friends' networks are most commonly used for sourcing talent
Overall, Western North Carolina is well-suited to proactively address talent needs due to high-quality education resources, access to training, and a community that is focused on growing a strong talent pipeline.