Sponsored by First Bank, the Suzanne DeFerie Lifetime Achievement Award recognizes a woman who has distinguished herself in business over a lifetime. The recipient epitomizes the spirit of the WomanUP initiative by demonstrating excellence and leadership in business throughout her career and by serving as a mentor and role model for women of all ages.
The candidate should work for a company that is an Asheville Chamber member based in, founded in or with a significant presence in Buncombe County.
Winner is chosen by the WomanUP volunteer committee, comprised of representatives from small business to large corporations, based on the merit of the application and quality of supporting documentation. Winner will be honored at the WomanUP Celebration.
Tips for submitting a nomination:
Self-nominations are encouraged.
Answer each question thoroughly. Winning nominations typically have at least one paragraph for each answer.
Give specific examples to demonstrate the candidate's contributions.
Nominations are accepted through Aug. 10th, 2023.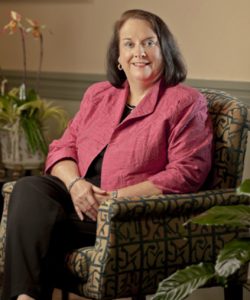 About Suzanne DeFerie
First Bank sponsors this award in honor of Suzanne DeFerie. Throughout her 40 year career in the financial services industry, Suzanne was a trail blazer, breaking barriers in her industry, providing both organizational and community leadership and mentoring to other women.
A native of Western North Carolina and graduate of Appalachian State University, Suzanne worked as a CPA, Senior Audit Manager and Banking Industry Specialist for Deloitte & Touche before joining Asheville Savings Bank in 1991. When she joined Asheville Savings Bank as Chief Financial Officer, she was the first female executive hired by the bank. Suzanne moved into the role of President and CEO of Asheville Savings Bank in 2008. At the time, she was one of only two female bank CEO's in North Carolina. She went on to successfully lead the bank through the Great Recession and through the initial public offering for ASB Bancorp. In 2017, when Asheville Savings Bank merged with First Bank, Suzanne became EVP & Regional president for First Bank's Western Region, retiring from the position in fall 2019.
Beyond the bank, Suzanne has served in a multitude of capacities for business, industry and community organizations, including: North Carolina member director of the Federal Home Loan Bank of Atlanta; Member of the Community Depository Institutions Advisory Council for the Federal Reserve Bank of Richmond; former chair of Asheville Area Chamber of Commerce Board of Directors; former Chair of United Way of Asheville and Buncombe County Board of Directors; Secretary and Executive Committee member of  the Board of Directors of Mission Health System; member of the Economic Development Coalition of Asheville- Buncombe County Board of Directors; board member of Asheville Merchant Fund; board member and Treasurer of the Board of Directors of the Asheville Area Habitat for Humanity; provost, 2011 North Carolina School of Banking at UNC – Chapel Hill; advisory board, Department of Accounting, Appalachian State University; Graduate, Leadership Asheville; Board member of the Black Mountain Center Foundation and Past President, Asheville Breakfast Rotary Club.